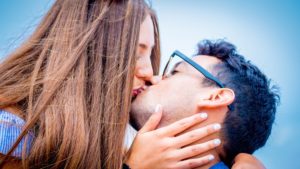 There are few things better than kissing your lover. There are also few things worse than kissing someone with bad breath. If you're someone who has to live inside the venn diagram of kissing a lover with bad breath, it can be difficult. Most people living with bad breath don't usually know that they are doing so, which can often put the burden of bad breath on those who are spending time with them. If they are also your partner or spouse, a conversation about bad breath could lead to an argument. Tacoma dentistry Plancich Dental is here to help you navigate this difficult conversation, with oral and dental health tips to solve the bad breath problem for good.
Don't Be Too Harsh
The most important thing to remember about this conversation is that it's coming from a place of love, and that the bad breath isn't a malicious act. This conversation can be embarrassing for both of you, so don't point it out in public. Some people can get defensive if they are told their breath smells bad, so be as gentle as possible when bringing up the subject. Make it as clear as possible that you are coming from a place of love, not anger, and that you want it to be resolved because of how much you care about them and your relationship.
Be Positive
Positive comments will always be more acceptable than negative ones. Instead of saying how bad their breath is one day, offer praise for a particularly good breath day, to help motivate them to have more. Comments like 'that flavor of gum makes your breath smell good,' or 'I like that new toothpaste you're using' are easy ways to subtly alter your loved one's behavior, without having to outright address the bad breath issue.
Work On Better Oral Health Habits Together
For an actual solution to bad breath, look to improved dental and oral health habits. A non-confrontational way to do this is to make it a couple's activity, which you work on together, so that your partner doesn't feel singled out for their bad breath. Whether it's investing in better toothbrushes or a waterpik, make flossing a nightly routine you do together. Couple's dental and oral health is the perfect trojan horse for addressing bad breath, without any arguments. A few good places to start are:
Regular, everyday flossing
Using mouthwash to keep your mouth bacteria free
Replacing your toothbrush frequently    
Visit A Dentist Regularly
Keeping your mouth clean, and getting professional advice on how to do so, is the best way to prevent bad breath. Having your teeth and mouth checked by a dental professional, like Plancich Dental, ensures that bad oral health habits are addressed before they turn into bad breath, which helps you avoid these conversations entirely.
If you're looking for a Tacoma dentist to help with bad breath or oral health habits, contact Plancich Dental today, to book an appointment with our team of caring and expert dental professionals!