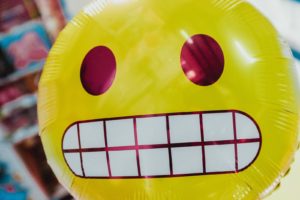 As the holiday season rounds into full swing, we're all getting excited for the good times and laughter with friends and family, as well as the well-deserved relaxation. At least, in theory. For many of us, the holidays can be just as stressful as the rest of the year. Whether you're traveling home, planning big holiday get-togethers, hitting the malls for last minute shopping, or just trying to brave another year at the in-laws, stress always seems to find a way to leak into this time off.
Did you know that one of the many ways that our bodies hold stress is in the muscles of our faces and jaws? This can lead to clenched teeth, which are a devastating long term problem for dental health. However, by being aware of a few simple techniques for handling jaw stress, you can protect your teeth, and have a happy and healthy holiday with your loved ones.
Exercise and Meditation
You can cut stress off before it begins by engaging in regular exercise or a meditation practice, as an outlet for your body and mind to blow off some steam. Exercise is a great way to ensure that your body remains in a healthy equilibrium. It's also a perfect solo or group activity, whether you're looking to get away for an hour alone, or to tire out the twenty five kids coming over for holiday dinners.
Meditation also works to destress by clearing your mind. Whether you're sitting in silence, listening to calming music, or just focusing on controlling your breathing, it's easy to slip a little mindfulness into you day. We are all guilty of stretching ourselves thin with errands over the holidays, so even 10 minutes of daily meditation can go a long way to helping you control the chaos.
Chewing Gum
One of the most destructive parts about stress is when it inflicts its damage on you while you aren't paying attention. This is often the case with jaw clenching, which is a stress reflex that results in the grinding of your teeth, and focusing on stopping it all day can be exhausting. A piece of sugar-free gum, such as Excel or PUR, can act as a good buffer throughout the day, to stop any absent-minded jaw clenching when the stress just can't be avoided.
Limiting Caffeine
While grabbing just one more coffee might be the thing you need to get yourself through all of this running around, caffeine often puts unnecessary stress on your body, which can easily be expressed through facial stress and jaw clenching. Try to limit your caffeine consumption over the holidays in order to limit some of its negative side effects, including an increased heart rate or restless sleep, in order to keep your jaw, and your teeth, in the best possible situation to avoid holiday stress.
Once you've survived the holiday season, or to prepare yourself beforehand, it's smart to book a dental appointment to ensure that none of the potential stress of the holidays has ended up damaging your teeth. Contact Plancich Dental today, to book an appointment with our dedicated team of caring professionals.